Welcome to the Food Battle Wiki! This is the most comprehensive encyclopedia about the Food Battle the Smosh series and everything revolving around. This wiki is edited by fans just like you, so remember that anybody can edit. We're currently editing over 106 articles with 981 edits since April 8, 2015.
---
About · Contribute · Policies · Help · Wiki Staff · Manual of Style
---
Which One do you wanna Vote?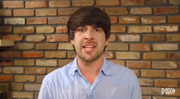 Ian Hecox is one half of the comedy duo Smosh and the one of the co-creator of Food Battle. He is sometimes referred to as the shorter, smarter, more devious, dangerous and funnier one. Hecox has a genius level IQ which he rarely puts to good use. He is a serous body builder and a runner-up in the 98' Mr. Universe event. Hecox is wildly unpredictable and should not be approached. Though strangely coincidental, Hecox also wears a small t-shirt and was last seen in Carmichael, California in the company of his mother. He is Anthony's best friend.
In Food Battle, Ian battle with his arch-nemesis, Anthony Padilla for winning Food Battle. It is because Anthony thinks Ian's pink-frosted sprinkled donuts are useless, and he says that his taquitos, celery, churros, burritos, red hot chili peppers, rainbow lollipops, egg rolls, giant gummy snakes, and rock candy are much better.
What is Anthony's next favorite food for Food Battle 2015
This wiki, the Smosh Wiki, is optimized for the Mozilla Firefox, Google Chrome, Internet Explorer, Opera, and Apple Safari browsers. We suggest to use these browsers for pinpoint coding and display. If you are not using these browsers, not all coding will be displayed as properly expected.